Self-introduction
Born in Osaka , March 4, 1968.
I travelled the world with a camera and since 1998 I have started to devote myself seriously to photography. I met an exceptional teacher and a trusted friend and I realize my photographs in Japan and in different corners of the world, seeking to express "the feeling of the greatness of the heritage of humanity and natural landscapes".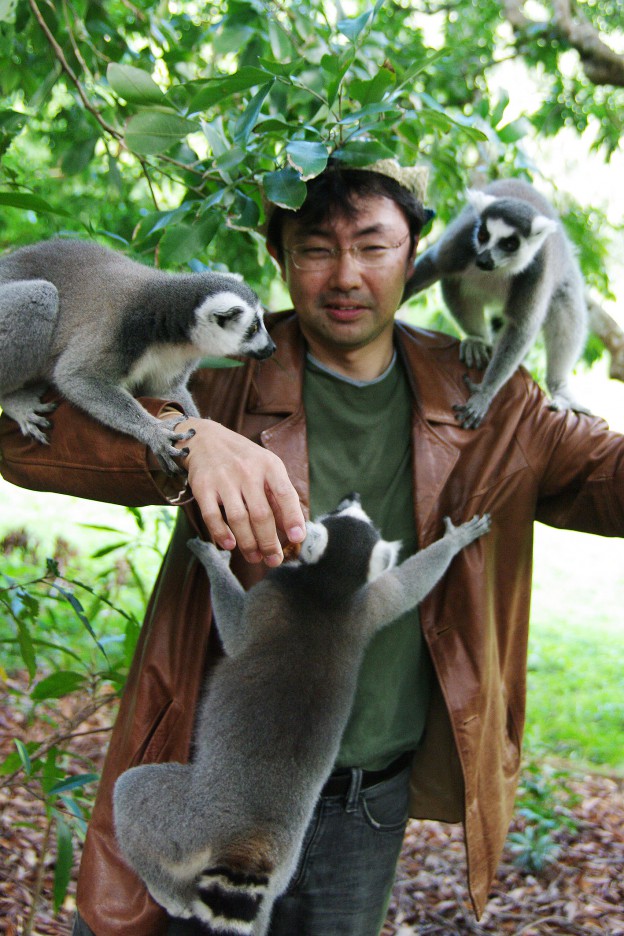 In Japan, I organize an annual group exhibition with Japanese friends in Saitama and Tokyo. My first exhibition in Paris, which had the theme "antique lotus", was extremely successful. I chose this theme because the changes of light in Monet's famous "Nympheas", which I saw 30 years ago at the Orangery Museum, had upset me.
During this first exhibition, many visitors asked me when the next one would take place. In addition, I wanted to present my photographs to as many people as possible; that's why I decided to present them to N.Y. The exhibitions that followed, in Tokyo and Paris, were also well received.
Since 2004, I have been commercially exploiting some of my photographs with the French company "Téo Jasmin" in Paris, which creates textile products and furniture by printing images, and whose products are now sold in various countries of the world.
At the same time, in several regions of China, I have linked up with associations of photographers; we also founded a photography club "You You photo CLUB"
This name was then given to the school of photography where I teach and work in Saitama and Tokyo. I usually take pictures of the photogenic plants around me. Lately, I have published a series of photo books of "Rengeshouma" in MITAKE mountain. I also wrote articles and published my photos in a magazine.
contract width "teo jasmin"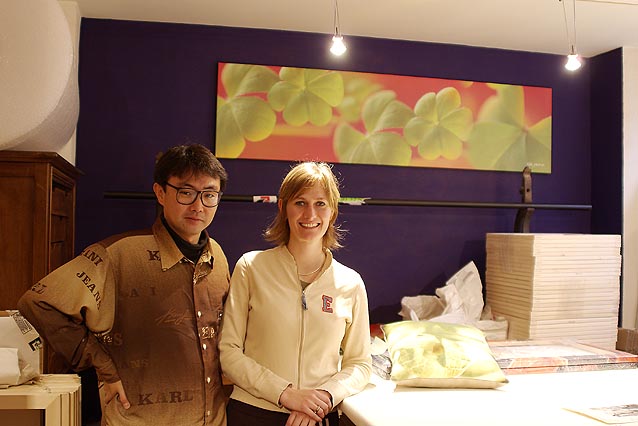 I made a contract with « teo jasmin » in Paris, having the design of the product of the interior relation use the photograph of my 'Lotus Antiques'.
The activity in foreign countries and the situation of the domestic production thing
| | |
| --- | --- |
| 1968 | Born in Osaka, Japan. |
| 1988 | While in Australia, my host teaches me the pleasure of photographing and I buy my first reflex camera as soon as I return to Japan. |
| 1989-91 | Photographic trips to Australia, New Zealand, New Caledonia and Vanuatu and a few other countries. |
| 1996-97 | Photographic trips throughout Australia, Hong Kong, Macau and Shenzhen, which is, in China, a particularly developed economic zone. 1998 Photographic trips to the western part of France. Perfecting my photographic technique at the Chuoukou school. |
| 1999-2002 | Photographic trips through northern Italy to Rome, Sydney for the Olympic Games, Pakistan, China, Alaska, Peru, Paris during the Christmas period and Rota Island. From 1999, I devoted myself to the theme of Japan, taking as subject lotus, cherry trees, ice caves, the Japanese countryside, fireworks, etc. |
| 2003-04 | Photographic trips to France, China and, during the Christmas period, to New York. |
| 2004 | Photographic trips to Malaysia and New York. |
| 2005 | In January, presentation of paintings and cushions printed with photos, representing antique lotus in the spring season, in collaboration with Teo Jasmin at the Maison et Objet show in Paris. In the spring, a photographic trip to China, taking the subject of the rice terraces of Yuanyang. In September, photographs of drops and cherry trees, in the form of paintings and impressions on cushions, in collaboration with Teo Jasmin at the Maison et Objet show in Paris. In autumn, photographic trip to China, taking as subject some old cities of the Jiangnan region. |
| 2006 | In January, presentation of photographs depicting ginkos, in the form of paintings and impressions on cushions, in collaboration with Teo Jasmin at the Maison et Objet show in Paris. In the spring, a photographic trip to China, taking the subject of the rice terrace of Yuanyang and the rapeseed fields in Xian de Luoping. Then, photographic journey in the desert of Mongolia, then in several places of China, including Beijing. In the summer, as a representative of Japan invited by the photography association of Yunnan Province in China, participate in the photographic tour of the festival of re-enactment of the Temple of 3 Pagodas, in the city of Dali. In September, presentation of paintings, cushions and furniture printed with photos, representing wisteria from Japan, in collaboration with Teo Jasmin at the Maison et Objet show in Paris. At the end of the year, photographic trip to Xitang, Wuzhen, Xihu and Zoo hai shan. |
| 2007 | In January, presentation of photographs depicting bamboo, in the form of paintings, prints on cushions and furniture, in collaboration with Teo Jasmin at the Maison et Objet show in Paris. In spring, photographic trip to Dongchuan, Shilin and Xian of luoping in Yunnan Province, China. Two months later, a photographic trip to Lhasa and its surroundings, at an altitude of 5000 m, listed as a Unesco World Heritage Site, I went there from Chengdu in Sichuan province, via the Qing Zang railway line. In September, presentation of photographs depicting magnolias, in the form of paintings, prints on cushions, furniture and eco-bag bags, in collaboration with Teo Jasmin at the Maison et Objet show in Paris. In autumn, a photographic trip about various animals from the Galapagos Islands, Ecuador, listed as a Unesco World Heritage Site. At the end of the year, a photographic trip about old towns in the Jiangnan region. Marketing of the photography book "Venus Rengeshouma". |
| 2008 | In January, presentation of photographs depicting lotus and the flower called "Rengeshouma", in the form of prints on cabas, in collaboration with Teo Jasmin in Paris. A photographic journey about the terraced rice fields of the Philippine Mountain range, listed as a Unesco World Heritage Site. In the spring, a photographic trip to the Angkor Vat temple in Cambodia, a Unesco World Heritage Site. To continue the photographic journey of the Unesco World Heritage, I went, among others, to Cappadocia and the Blue Mosque, in Turkey, then to the Acropolis and the island of Myconos, Greece. |
| 2009 | Making the eco-bag in China, with printing of 4 photos of the flower "rengeshouma" and 2 photos of lotus. A photographic journey about the terraced rice fields of the Philippines, listed as a Unesco World Heritage Site. In the spring, a photographic trip to Morocco, on several Unesco World Heritage sites. In autumn, a photographic trip to the Borobudur temple in Indonesia, a Unesco World Heritage Site. In winter, a photographic trip to the Jizhaigou Valley in China, a Unesco World Heritage Site. In 2009, I photographed many World Heritage sites. 2010 Launch of the manufacture and marketing, in Japan, of plastic pouches with printed photos representing "rengeshoume" flowers, apricot trees from Japan, lotus and the city of Matsunoyama. In the spring, photographic trip to Bhutan. In autumn, a photographic trip to the Philippines, notably to the island of Manamoc and Amanpulo. |
| 2011 | Launch of the manufacture and marketing of photo-printed scarves. In spring, a photographic trip to the cities of Alkmaar, Kinderdijk, Delft, Naarden, Haalem, Hoorn, Leiden and Keukenhof, the Netherlands; stay in Amsterdam. |
| 2012 | In the spring, photographic trip to Berenty, Fort Dauphin, Morondava and Andasibe, with stay in Antananarivo (Tananarive), capital of Madagascar. Then, photographic trip to Bangkok, Thailand. Marketing of the photography book "Rengeshouma" Marketing of the photography book "Magic Technique to Improve Photos". |
| 2013 | Launch of the manufacture and marketing of 2 types of photo printed subcups. The first type of subcup is round in paper towels, the second type of subcup is square water-repellent paper. In spring, photographic trip to Easter Island. Later, a photographic trip to Santiago, the capital of Chile; then to Iguazu Falls, seen from the Brazilian side, then seen from the Argentine side. In autumn, a photographic trip to Mont Saint-Michel, France. |
| 2014 | Launch of the manufacture and marketing of T-shirts printed with photographs depicting cherry trees, lotus and flowers "rengeshouma" |
| 2015 | Photographic trip to the Palau Islands; first to the Chelbacheb Islands, taking jellyfish as its subject; then to the island of Peleliu, taking as its subject the remnants of the battle that raged there during the Second World War; then the Ngardmau waterfall, Milkyway beach, and Badrulchau stone monoliths. |
| 2016 | I went to Palau again in spring and photographed Rock Island group and the south lagoon of the world heritage.  I photographed underwater Zero fighter and photographed a war inheritance afterwards in Peleliu island, Angaur island. As a new product, I made three types of seals of a lotus, Rengeshouma, and a cherry tree and I sold its. An Rengeshouma pamphlet of Mount Mitake renovated contents and was made again. I made Tanada photo T-shirts and the photofiles of HOSHITOGE and I sold its for Roadside Station of Niigata Matsudai. I made the photoT-shirts of the white crane with a red crest crane and the photofiles of the Hokkaido animal for photo exhibitions of Hokkaido. |
| 2017 | I publish the book called "A photocollege of MAENO KATSUMI. The photograph lecture that You feel that you actually experienced it". I produce four types(a cherry tree, an ancient lotus,a rengeshouma , the wild flower) of photoporches. As for me, a work was published in the magazine called "a miraculous superb view" of Kodansha several times. I start the sale of photogoods in "COOLJAPAN" of Paris newly. I go to Taiwanese Sun Moon Lake in spring and I photographed the tea plantation which there was in the heavens. |
| 2018 | I went to Taiwan again in spring and I searched from a satellite photo and photographed the tea plantation at the mountaintop. I stayed, and I photographed it in Taiwanese famous sightseeing spot, Chiufen. I rented "epSITE" of EPSON of Shinjuku, and I held several times of seminars.  I made three types of smartphone cases of a cherry tree, the ancient lotus and the Rengeshhouma as a new product. I made the photo T-shirt of the both sides print for the first time and started sale. |
| 2019 | I went to the uninhabited island jeep Island in the Federated States of Micronesia and photographed starlit sky & nebula and an underwater sinking ship using THETA of 360-degree RICOH which I could photograph. As a new product, I made two types of the smartphone case of BIJINBAYASHI of Matsunoyama, Niigata and the frog. I rent a room in Shinjuku, and, every four seasons, I start a seminar. |
| 2020 | For influence of the coronavirus, I started an online photograph seminar. As a new product, I made the photo porch of the hina doll. |
SOLO EXHIBITIONS
2003
 
Lotus antiques in PARIS.(FRANCE)
2004.
4
Lotus antique in NEW YORK.(USA)
6
Borneo Island in Tokyo.(JAPAN)
6
Lotus antiques Ⅱin PARIS.(FRANCE)
8
Lotus antiques in Tokyo.(JAPAN)
9-10
Lotus antiques in Kuching (Malaysia)
2004-2005.
3
Lotus antiques(Special version)in Paris.(FRANCE)
7
Lotus antiquesⅡ in SAITAMA (JAPAN)
8
Lotus antiquesⅡ in Tokyo (JAPAN)
10-11
Lotus antiquesⅡ in NEW YORK.(USA)
2006.
5
China, old times, land, person at SAITAMA (JAPAN)
2007.
6
Cherry, Bamboo, Lotus in Shanghai (China)
11
Photography of lotus CREATION CONTEMPORAINE – SPIRITUALITES D'EXTREME-ORIENT (Auction) in PARIS (France)
2008.
2
The photograph of the ancient lotus is used for the French film "Ca se soigne"
9
Galapagos in Tokyo. (JAPAN)
2010.
5
Photography of the lotus "7em edition of the First International Salon of Outdoor Contemporary Art" in Paris (France)
2012.
7
Rengeshouma in Tokyo. (JAPAN)
8
"Magical photography that changes photos" release commemorative photo exhibition in Tokyo (JAPAN)
2013.
7
Rengeshouma in Tokyo. (JAPAN)
8
Rengeshouma in Tokyo. (JAPAN)
2014.
7
Lotus antiquesⅡ in Tokyo (JAPAN)
8
RengeshoumaⅡ in Tokyo. (JAPAN)
2015.
8
RengeshoumaⅢ in Tokyo. (JAPAN)
10
Participated in the FETE DES VENDANGES in Paris, France and organized a photography exhibition "Ancient Lotus" in the office of the 18th parish.
2016.
5
Ancient Rengeshouma&LousIV in Tokyo. (JAPAN)
7
Experience! Beautiful Hokkaido in Tokyo. (JAPAN)
7
RengeshoumaII. (JAPAN)
8
RengeshoumaIV. in Tokyo. (JAPAN)
2017.
5
Participation in the exhibition "PENTAX KP" at RICOH IMAGING SQUARE SHINJUKU in Tokyo. (JAPAN)
8
RengeshoumaV in Tokyo. (JAPAN)
12
Fantastic Night in Tokyo. (JAPAN)
2018.
5
The beauty landscape of Japan that I was impressed in Tokyo. (JAPAN)
8
RengeshoumaVI in Tokyo. (JAPAN)
2019.
5
The beautiful landscapes of the world that I was impressed in Tokyo. (JAPAN)
8
RengeshoumaVII in Tokyo. (JAPAN)