Self-introduction
Since my school days, I was always on the move touring the world with a camera in my hand, but I took up the study of photograph seriously in 1998.
I was fortunate to have an excellent mentor and stimulating colleagues.
I take photographs, which allow the viewer to experience the physical world-historical sights and scenery in Japan and every corner of the world.
contract width "teo jasmin" テオジャスマンと契約 le contract avec "teo jasmin"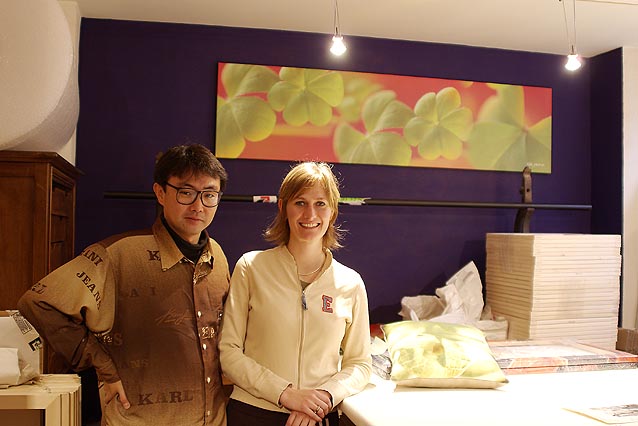 私は古代蓮の写真をインテリア関係の商品のデザインに採用してくれたメーカー、テオジャスマンと契約を交わしました。
I made a contract with "teo jasmin" in Paris, having the design of the product of the interior relation use the photograph of my 'Lotus Antiques'.
En ayant le contact avec teo jasmin a Paris, les photographies de mon 'Lotus Antiques' seront figurees sur leurs pruduits de decoration interieure.
1968
Born in Osaka, Japan
1988
First trip(Australia) abroad to study a foreign language.
Buy first reflex camera.
1989-91
Traveled in France, Germany, the United Kingdom, Australia,
New Zealand, New Caledonia, Vanuatu.
Joined Dainippon Pharmaceutical company.
1996-97
Took photographs in Australian whole, Hong Kong, Macao, Shenzhenh as well which is Chinese economic special area.
1998
Began to study photography seriously in CHUOKOU hschool.
Took photographs French west side halfway.
1999-02
Took photographs Italian northern part to Rome, Sydney Olympic, Pakistan, China, Alaska, Peru.
Took photographs the Christmas celebration of Paris, Rota Island.
2003-04
Took photographs France, China.
Took photographs the Christmas celebration of New York.
2004
Took photographs Malaysia, New York.,Paris , shanghai
Since 1999,
I have been focusing on photographing, in Japan, Lotus ,
Cherry trees, ice cave and scenery in the countryside, as well as fireworks,
hroughout the country.
SOLO EXHIBITIONS
| | |
| --- | --- |
| 2003 | Lotus antiques in PARIS.(FRANCE) |
| 4/2004 | Lotus antique in NEW YORK.(USA) |
| 6/2004 | Borneo Island in Tokyo.(JAPAN) |
| 6/2004 | Lotus antiques Ⅱin PARIS.(FRANCE) |
| 8/2004 | Lotus antiques in Tokyo.(JAPAN) |
| 9-10/2004 | Lotus antiques in Kuching (Malaysia) |
| 1/12/2004-29/1/2005 | Lotus antiques(Special version)in Paris.(FRANCE) |
| 3/2005 | Lotus antiques in SAITAMA (JAPAN) |
| 7/2005 | Lotus antiquesⅡ in SAITAMA (JAPAN) |
| 8/2005 | Lotus antiquesⅡ in Tokyo (JAPAN) |
| 11-10/2005 | Lotus antiquesⅡ in NEW YORK.(USA) |
| 5/2006 | China, old times, land, person at SAITAMA (JAPAN) |
| 6/2007 | Cherry, Bamboo, Lotus in Shanghai (China) |
| 11/2007 | Photography of lotus CREATION CONTEMPORAINE – SPIRITUALITES D'EXTREME-ORIENT (Auction) in PARIS (France) |
| 2/2008 | The photograph of the ancient lotus is used for the French film "Ca se soigne" |
| 9/2008 | Galapagos in Tokyo. (JAPAN) |
| 5/2010 | Photography of the lotus "7em edition of the First International Salon of Outdoor Contemporary Art" in Paris (France) |
| 7/2012 | Rengeshouma in Tokyo. (JAPAN) |
| 8/2012 | "Magical photography that changes photos" release commemorative photo exhibition in Tokyo ((JAPAN)) |
| 7/2013 | Rengeshouma in Tokyo. (JAPAN) |
| 8/2013 | Rengeshouma in Tokyo. (JAPAN) |
| 7/2014 | Lotus antiquesⅡ in Tokyo (JAPAN) |
| 8/2014 | RengeshoumaⅡ in Tokyo. (JAPAN) |
| 8/2015 | RengeshoumaⅢ in Tokyo. (JAPAN) |
| 10/2015 | Participated in the FETE DES VENDANGES in Paris, France and organized a photography exhibition "Ancient Lotus" in the office of the 18th parish. |
| 5/2016 | Ancient Rengeshouma&LousIV in Tokyo. (JAPAN) |
| 7/2016 | Experience! Beautiful Hokkaido in Tokyo. (JAPAN) |
| 7/2016 | RengeshoumaII. (JAPAN) |
| 8/2016 | RengeshoumaIV. in Tokyo. (JAPAN) |
| 5/2017 | Participation in the exhibition "PENTAX KP" at RICOH IMAGING SQUARE SHINJUKU in Tokyo. (JAPAN) |
| 8/2017 | RengeshoumaV in Tokyo. (JAPAN) |
| 12/2017 | Fantastic Night in Tokyo. (JAPAN) |
| 5/2018 | The beauty landscape of Japan that I was impressed in Tokyo. (JAPAN) |
| 8/2018 | RengeshoumaVI in Tokyo. (JAPAN) |
| 5/2019 | The beautiful landscapes of the world that I was impressed in Tokyo. (JAPAN) |
| 8/2019 | RengeshoumaVII in Tokyo. (JAPAN) |
SELECTED GROUP EXHIBITIONS
| | |
| --- | --- |
| 2000 | Natural scenery in Tokyo. |
| 2001 | Natural scenery in Tokyo. |
| 2003 | Natural scenery in Tokyo. |
| 2004 | Natural scenery in Tokyo. |
FUTURE SCHEDULE
| | |
| --- | --- |
| 25/10-12/11.2005 | Exhibition in New York |